Adoption of security as a service
Journal of Internet Services and Applications
2013
4:11
Received: 6 February 2013
Accepted: 6 February 2013
Published: 4 April 2013
Abstract
Security as a Service systems enable new opportunities to compose security infrastructures for information systems. However, to date there are no holistic insights about their adoption and relevant predictors. Based on existing technology acceptance models we developed an extended application-specific research model including formative and reflective measures. The model was estimated applying the Partial Least Squares technique to address the prediction-oriented nature of the study. A subsequent online survey revealed that a large number of industries shows significant and steadily growing interest in Security as a Service. Adoption drivers were investigated systematically.
Keywords
Cloud computingPartial least squaresSecurity as a service
1 Introduction
Companies face an increasing threat regarding the security and safety of their information systems due to the opening of security domains for web-based access in the course of current technological developments such as Federated Identity Management[1] and Cloud Computing[2, 3]. In this regard, Cloud Computing is a model "for enabling convenient, on-demand network access to a shared pool of configurable computing resources […]" [4]. These resources are referred to as Cloud services and can logically be assigned to the infrastructure, (Infrastructure as a Service, IaaS), middleware (Platform as a Service, PaaS) or application software layer (Software as a Service, SaaS) [5, 6]. The Cloud Computing model itself not only induces certain security-related risks, it also opens up new opportunities to obtain innovative security solutions in a technically and economically flexible way in order to cope with rising security demands [7]. The outsourcing of security according to SaaS principles is referred to as Security as a Service (SECaaS) [3, 8]. Such systems are considered to be the next step in the evolution of Managed Security Services (MSS) and differ clearly from traditional outsourcing models or on-premises deployments [3, 8, 9]. According to GARTNER RESEARCH, the demand for SECaaS will grow significantly and might substantially change existing IT security infrastructure landscapes [10]. However, no deep insights about the current adoption and future developments exist. In this regard, based on an expert-group discussiona we defined that the answers to the following research questions (RQ) are important to predict the future of SECaaS:
 RQ1: Is there a market for SECaaS enterprise applications in general and for specific application types in particular?

 RQ2: Which are the key drivers and inhibitors for the adoption of SECaaS?

 RQ3: Which benefits are perceived to be relevant by potential adopters of SECaaS?

 RQ4: Which risks are perceived to be relevant by potential adopters of SECaaS?

 RQ5: Which organization-specific factors (e.g. company size) affect the acceptance of SECaaS?
The main objective of this paper is to answer these research questions through empirical research in order to gain insights valuable for both potential consumers and providers of SECaaS. The remainder of this paper is structured as follows: Section 2 defines SECaaS and overviews related work regarding the adoption of similar technologies. In Section 3 the research concept is specified and justified. Section 4 gives an overview of the results of the estimation of the research model and the related hypotheses. Afterward, the findings are discussed respecting the specified research questions. Section 5 concludes the paper.
2 Theoretical background
This chapter provides the theoretical background for the context of the study. This includes the object of adoption (SECaaS), which is defined in Subsection 2.1. Subsequently, an overview of related work regarding the adoption of similar technological innovations is provided in Subsection 2.2 in order to identify adequate research approaches.
2.1 Security as a service
SECaaS is a service-oriented approach to IT security architecture and thus a consequent evolution of traditional security landscapes [8, 9]. It is defined as a model for the delivery of standardized and comprehensive security functionality in accordance with the SaaS model [8, 11]. It thus follows the Cloud Computing model. Hence, SECaaS systems are delivered in form of Cloud services complying with related principles. This excludes built-in security controls of existing Cloud services [11]. Key attributes of Cloud services contain the following [5, 6, 12]:
 Application and underlying infrastructure are abstracted and offered through service interfaces;

 Standardized network access by any device;

 Scalability and flexibility of the underlying infrastructure;

 Shared and multi-tenant resources;

 On-demand self-service provisioning and near real-time deployment;

 Flexible and fine grained pricing without up-front commitments.
Based on the market-oriented taxonomy of
KARK
 for outsourced security services [
13
] and the adaption of
SENK AND HOLZAPFEL
[
14
] we classify SECaaS systems as depicted in Table
1
. This classification scheme was recently validated by a survey of existing SECaaS offerings [
14
]. According to that survey, the majority of existing SECaaS products cover
Endpoint Security
or
Content Security
applications [
14
]. The authors further outline existing systems' deficient compliance with Cloud and SaaS design principles. Especially inflexible pricing models often restrict the potential value of existent SECaaS systems [
14
]. It has to be noted that the granularity of SECaaS offerings can vary from fine-grained basic services addressing highly specific security needs (e.g. biometric user authentication) to coarse-grained solutions covering a broad set of security functionalities.
Table 1
Classification of SECaaS applications
| Application type | Description |
| --- | --- |
| Application security | Secure operation of software applications |
| | (e.g. application firewalls, code analyzers) |
| Compliance & IT | Support of the client organization's compliance and IT security management |
| Security management (ITSM) | (e.g. automatic compliance checks, benchmarking) |
| Content security | Protection of content data from intended attacks and undesired events |
| | (e.g. e-mail encryption, filtering of network traffic) |
| Endpoint security | Protection of servers or client computers in networks |
| | (e.g. malware protection, host-based intrusion detection) |
| Identity & access management | Identification of users, provisioning of user identity attributes and assign- |
| | ment of necessary privileges (e.g. single sign-on, multi-factor authentication) |
| Devices management | Remote management of client-sided security systems |
| | (e.g. intrusion detection and prevention systems) |
| Security information & | Specific security-related functions for monitoring complex IT systems |
| event management (SIEM) | (e.g. archiving and analysis of log-data, forensic analysis) |
| Vulnerability & threat | Detection of threats apart of eminent internal security incidents |
| management (VTM) | (e.g. patch management, notifications on current attacks) |
The delivery of security services according to the SECaaS model differs clearly from traditional MSS provisioning and on-premises deployments (see Figure
1
).
On-premises security systems
 are deployed, operated, and maintained on the client's side [
11
]. This requires the allocation of dedicated IT and human resource capacities. Service costs do not scale up or down with the actual degree of capacity utilization. None of the identified Cloud principles apply [
14
].
Managed Security Services
 are characterized in that a dedicated security service instance is set up for a client organization by an external service provider. This involves the prior negotiation of individual
Service Level Agreements
 (SLA) [
11
]. In this regard, the provider is responsible for the operation and maintenance of the system [
15
–
17
]. Such security services do not provide for native multi-tenancy. Hence, the instant service use is not feasible and economies of scale are not exhausted [
18
]. Additionally, service usage may involve the deployment of dedicated software and hardware components and due to the initial effort required clients are often bound to providers by fixed-term licenses and up-front commitments [
19
]. Traditional managed service provisioning thus follows the
Application Service Providing
(ASP) model [
12
,
14
,
20
]. In contrast,
Security as a Service
 solutions are fully operated and maintained by the service provider with no dedicated client-sided hardware or software necessary [
11
,
14
]. Full virtualization of the security service ensures the highest degree of capacity utilization. This makes the service usage highly cost-effective to the customer and enables fine-grained pay-per-use models. A virtualized multi-tenancy architecture not only enables the instant start of service use but also leverages inherent data aggregation benefits for service providers [
14
]. Moreover, operational and organizational flexibility is improved [
11
].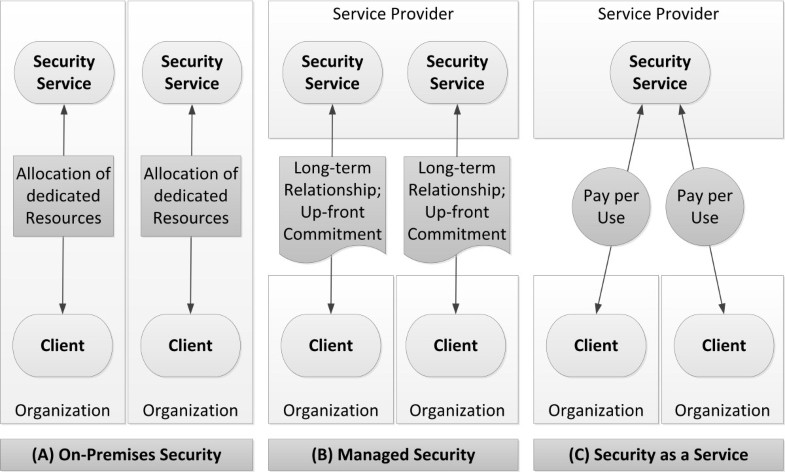 2.2 Adoption of related technologies
The term Adoption can be traced back to ROGERS' (1962) diffusion of innovations theory and is defined as a consumer's positive decision to accept and use an innovation, which ultimately leads to a positive investment decision and actual use [21]. Adopters can be individuals or organizations [22].
There are only a few current insights regarding the adoption of the outsourcing of IT security. GARTNER and FORRESTER RESEARCH conducted analyses of the MSS market and forecasted a steady and significant growth [7, 13]. Moreover, FORRESTER RESEARCH surveyed IT security decision makers and identified major benefits of MSS [13]: Quality improvements, 24 ×7 support, cost reduction, and decrease of the complexity of security infrastructures. However, the study is not suitable regarding the research questions identified in this paper since the adoption was not investigated holistically and not focused on Cloud systems.
Benlian et al. conducted a meta-survey of the adoption of SaaS systems and applied different research theories [23]. They concluded that behavioral theories reveal more consistent results regarding the adoption of SaaS systems than economic or strategic research theories [23]. Behavioral theories include the Technology Acceptance Model (TAM) [24], the Theory of the Diffusion of Innovation[21], and the Unified Theory of Acceptance and Use of Technology (UTAUT) [22]. The results indicate that the adoption of SaaS technologies is mainly influenced by [23]:
 Social influences,

 Attitude toward the technology,

 Uncertainty of adoption,

 Strategic value of respective resources.
However, due to the underlying research design, these results do not provide for causality [23]. BENLIAN ET AL. also concluded that both the adoption and adoption drivers differ across application types, which should be considered in future research [23]. Previous research indicates a higher susceptibility to SaaS adoption for smaller and medium-sized companies [23] and a different perception of risks and potential benefits by large-scale organizations [25], although no correlation was discovered between company size and adoption [23]. Udoh applied a combined model including elements of UTAUT and TAM and observed that the adoption of grid, Cloud and related technologies can be causally explained by four predictors [26]:
 Effort expectations (Perceived ease of use),

 Risk expectations (Trust),

 Performance expectations (Perceived usefulness),

 Individual attitude.
Udoh's model provides a very high level of explanation which indicates a high aptitude for its application in similar technology acceptance studies [26]. Furthermore, its generic constructs can be itemized according to the specifics of subsequent research.
3 Research design
Based on related studies [23, 26], this paper applies the Structural Equations Modeling methodology. For the model estimation involved, the Partial Least Squares technique is used. The methodology is introduced and justified in Subsection 3.1. Subsequently, in Subsection 3.2, a system of hypotheses -the research model- is developed. In Subsection 3.3, the measurement model is derived from this research model.
3.1 Methodology
Common technology acceptance theories like TAM or UTAUT are based on the development and testing of hypotheses regarding the influences of theoretical constructs on each other [22]. A system of hypotheses can be modeled as a system of equations [27]. A common approach to solving such systems is Structural Equations Modeling (SEM) [27]. SEM is defined as "a comprehensive statistical approach to testing hypotheses about relations among observed and latent variables" [27]. Besides the structural model, which primarily prescribes hypothetical relations between latent variables, a measurement model is required to quantize thes variables [27].
The measurement model prescribes not directly observed (latent) variables of the structural model by a set of measurable indicators [27]. Measurement models can be reflective or formative. Reflective measurement models assume empirically measurable variables. In this regard, the latent variable causes a set of reflective measurement indicators which correlate highly among each other [28]. In contrast, formative measurement models estimate a latent variable, applying a set of indicators, which are assumed to cause the construct [29]. This facilitates the differentiated analysis of the relevance and strength of certain influences on a theoretical construct [28]. Formative measures are mainly intended to explain the composition of a construct, whereas reflective measures only indicate a construct's outcome [28]. Therefore, on the one hand, formative measures lead to deeper practical insights than reflective ones and are more suitable for practical research applications [28]. On the other hand, such measurement models are restricted regarding the application of quality indicators [28]. To avoid this disadvantage, formative and reflective measures can be combined to form Multiple Indicators, Multiple Causes (MIMIC) models [28].
To estimate the comprehensive model either co-variance-based approaches (CB-SEM) or the variance-based Partial Least Squares (PLS-SEM) technique can be applied [30]. Both approaches provide different benefits and drawbacks that imply their qualification for specific applications in research [28, 30]. The PLS-SEM technique is more suitable for the research for this study due to four reasons: (1) the prediction-oriented research goal to explain the adoption of SECaaS (dependent variable) as comprehensively as possible; (2) the formative measurement of perceived overall risks and benefits which is required to get a deep and differentiated understanding of the composition of relevant adoption drivers; (3) the small sample size expected relative to the high complexity of the research model implied by the high number of hypothesized influences; (4) the possibility of applying fewer than four indicators for latent variables which is necessary to keep the study's questionnaire as purposive as possible [28].
The model estimation was performed using the software SmartPLS developed by Ringle et al. [31]. The tool facilitates the building of both structural and measurement models and was successfully applied in similar studies [32]. Further quality metrics were calculated using the statistics software SPSS PASW Statisticsb.
3.2 Research model
In SEM, hypotheses are relationships between latent variables which are represented by the structural model [27, 28]. The system of hypotheses must be theoretically well-grounded [28]. This was assured since its development was based on related literature in the fields of Cloud Computing, SaaS and MSS, and continuously validated by an expert groupc (Below, this expert group is referred to as the Expert Panel) using a dedicated online discussion platform (PBworksd). The labels used for the study's constructs represent the essence of the construct and are assumed to be independent regarding their theorized content. Constructs and hypothesized influences are described and justified below.
3.3 Measures
Based on the constructs of the specified structural model a measurement model was developed. Therefore, an initial literature review was conducted in order to identify and classify the major related indicators which semantically describe the structural model's constructs. These indicators were presented to the Expert Panel via the aforementioned collaboration system PBworks. The experts actively discussed and supplemented the indicator set which was subsequently revised by the authors of this paper and transformed to the study's online questionnaire. Finally, the Expert Panel approvede the measurement model (including the online questionnaire).
The measurement model includes both formative and reflective elements to account for the methodological problems mentioned in Subsection 3.1. We developed two-construct MIMIC models separating formative and reflective indicators for the major latent variables
Perceived Ease of Use
,
Perceived Usefulness
,
Trust
, and
Adoption
. Within the structural equations model the latent variable is represented by a reflective construct; one or more formative constructs model the composition of the variable [
44
]. For the reflective (refl.) constructs, existing published measures were applied. Formative (form.) constructs and indicators were based on related work and both specified and validated by the
Expert Panel
. The MIMIC models for
Perceived Usefulness
 and
Trust
 each consist of one reflective and several formative elements representing the respective benefit and risk dimensions as depicted in Figure
2
. In this regard, operational and financial risks were merged to one variable. The remaining two variables were measured linking only one formative element. Table
2
provides an overview of all indicators of the study's primary variables and the variable
Strategic Value of IT Security
. The
Company Size
was determined by means of the company turnover and headcount. The remaining organization-specific factors were each measured by one global indicator with nominal scale.
Table 2
Metrically measured indicators
| Construct | Indicator(s) | Reference(s) |
| --- | --- | --- |
| Adoption (refl.) | Actual use | |
| | Use intent short-term (next 3 years) | |
| | Use intent mid-term (4–7 years) | |
| | Use intent long-term (≥ 7 years) | |
| Adoption (form.) | Actual use/intent of Endpoint Security applications | |
| | Actual use/intent of content security applications (appl.) | |
| | Actual use/intent of application security applications | |
| | Actual use/intent of compliance & IT security management appl. | |
| | Actual use/intent identity & access management appl. | |
| | Actual use/intent of managed devices applications | |
| | Actual use/intent of security information & event management appl. | |
| | Actual use/intent of threat & vulnerability management appl. | |
| Perceived ease of use (refl.) | General ease of use | |
| | Ease of learning | |
| | Ease of target achievement | |
| Perceived ease of use (form.) | Ease of initial integration/deployment of the service | |
| | Usability of the service | |
| | Ease of customizing the service | |
| | Comprehensive support by service provider | |
| Perceived usefulness (refl.) | Increase in performance | |
| | General usefulness | |
| | Increase in effectiveness | |
| Perceived cost & liquidity benefits (form.) | Reduction in costs of operation and maintenance | |
| | Variabilization of IT security costs | |
| | Reduction in recovery costs | |
| Perceived quality benefits (form.) | Transparency & control of security department | |
| | Increase in organizational level of security | |
| | Improvement of legal and regulative compliance | |
| Perceived flexibility benefits (form.) | Flexibility of IT and security processes | |
| | Flexibility of business processes | |
| | Reactivity regarding security-related problems | |
| Increased focus on core business (form.) | Decrease in employee errors | |
| | Time savings in security management | |
| Improved resource access (form.) | Enablement of access to new technologies | |
| | Access to external know-how | |
| | Independence from dedicated systems | |
| Trust (refl.) | Overall trust in adoption | |
| | Trust in certified service providers | |
| | Hesitation due to uncertainty | |
| Perceived security risks (form.) | Vulnerability to unauthorized service access | |
| | Deficient data mitigation and security | |
| | Vulnerability regarding network-based attacks | |
| | Deficient service continuity | |
| Perceived strategy & compliance risks (form.) | Dependence on service providers | |
| | Inability to comply with obligations to produce supporting documents | |
| | Non-compliance with data protection regulations | |
| Perceived social risks (form.) | Internal resistance | |
| | Loss of image | |
| Perceived financial & operational risks (form.) | Unexpected costs of integration | |
| | Deficient provider's compliance with SLAs | |
| Attitude (refl.) | General attitude toward cloud technologies | |
| | Relative advantage over managed security | |
| | Relative advantage over on-premises systems | |
| Strategic value of IT security (refl.) | Criticality of IT security for business | [23] |
All indicators were transformed into questionnaire items in German following general construction guidelines [28, 46]. As mentioned in the beginning of this section, the supporting expert group validated the wording and soundness of all items as well as the structure of the entire questionnaire from a semantic point of view as suggested by CHURCHILL[47]. SEM requires metrically-scaled data for further analysis [28]. Thus, we applied a systematically constructed seven-point Likert scale, which produces data that can be interpreted metrically for SEM model estimations [28, 46].
4 Findings
This section presents the empirical investigation of the research model. In Subsection 4.1, the sample and the process of data collection are described. In Subsection 4.2, implications regarding the market for SECaaS applications are deduced from descriptive data analysis. In Subsection 4.3, the model estimation including quality and hypotheses testing is laid out. Finally, in Subsection 4.4, the results are discussed respecting the research questions of the study.
5 Conclusion
This paper systematically investigates the adoption of SECaaS. An application-specific research model was developed based on existing technology acceptance models. The model was estimated applying the Partial Least Squares technique to address the prediction-oriented nature of the study. Based on 160 valid responses from companies in the German-speaking area, we investigated the market potential for SECaaS, key adoption drivers, the relevance of certain risks and benefits, and the influence of organization-specific factors like company size or industrial sector.
The results make valuable contributions for both practice and research. They provide a benchmark for potential adopters of SECaaS. Moreover, the findings support the understanding of the adoption behavior of enterprise consumers. Service providers can use this understanding to direct research, development and marketing programs by considering the significance of perceived security-related risks, for instance. Therefore, this study contributes to driving the future adoption of SECaaS, addressing existing threats to the security of enterprise information systems. Moreover, the developed research model including its measures was validated and can be applied for related future studies.
Future research should reflect the adoption of Cloud-based security services in other markets, survey specific security application types, investigate most relevant application fields and success drivers.
Endnotes
aSession of the "IT security solutions" working group of the German Federal Association for Information Technology, Telecommunications and New Media (BITKOM e.V., see: http://www.bitkom.de last access: 01 August 2012).
bhttp://www.spss.com.hk/statistics/ (last access: 29 September 2012).
c16 selected IT and IT security professionals of the German Federal Association for Information Technology, Telecommunications and New Media (BITKOM e.V.).
dhttp://pbworks.com (last access: 01 August 2012).
eTherefore, a simple online poll with the options "I do not approve", "I am ok" and "I fully approve" was conducted. Four experts responded "I am ok" and eight fully approved.
fAccording to the European Commission, the number of a company's employees and its turnover (alternatively: balance sheet total) indicate its size. Companies are categorized as follows: "micro", when number of employees < 10 and turnover ≤ € 2,000,000; "small", when number of employees < 50 and turnover ≤ € 10,000,000; "medium-sized", when number of employees < 250 and turnover ≤ € 50,000,000. Larger organizations are labelled as "large-scale". See: http://ec.europa.eu/enterprise/policies/sme/facts-figures-analysis/sme-definition(last access: 01 August 2012).
gDiscriminant validity is provided for when an indicator's loading with the assigned construct is higher than with remaining constructs. An indicator's loading with non-assigned constructs is referred to as cross loading.
hConvergent validity expresses the degree to which a latent variable explains the variance of assigned indicators.
Authors' Affiliations
(1)
University of Regensburg, Regensburg, Germany
Copyright
© Senk; licensee Springer. 2013
This article is published under license to BioMed Central Ltd. This is an Open Access article distributed under the terms of the Creative Commons Attribution License (http://creativecommons.org/licenses/by/2.0), which permits unrestricted use, distribution, and reproduction in any medium, provided the original work is properly cited.