A context-aware framework for dynamic composition of process fragments in the internet of services
Journal of Internet Services and Applications
2017
8:6
Received: 27 October 2016
Accepted: 28 April 2017
Published: 5 June 2017
Abstract
In the last decade, many approaches to automated service composition have been proposed. However, most of them do not fully exploit the opportunities offered by the Internet of Services (IoS). In this article, we focus on the dynamicity of the execution environment, that is, any change occurring at run-time that might affect the system, such as changes in service availability, service behavior, or characteristics of the execution context. We indicate that any IoS-based application strongly requires a composition framework that supports for the automation of all the phases of the composition life cycle, from requirements derivation, to synthesis, deployment and execution. Our solution to this ambitious problem is an AI planning-based composition framework that features abstract composition requirements and context-awareness. In the proposed approach most human-dependent tasks can be accomplished at design time and the few human intervention required at run time do not affect the system execution. To demonstrate our approach in action and evaluate it, we exploit the ASTRO-CAptEvo framework, simulating the operation of a fully automated IoS-based car logistics scenario in the Bremerhaven harbor.
Keywords
Internet of servicesDynamic service compositionProcess fragmentContext-awareAI planning
1 Introduction
Service composition is one of the cornerstone technologies within service-oriented computing. It consists in reusing existing services as building blocks for new services (applications) with higher-level functionality. Service composition allows for extremely rapid software development and high re-usability of development results.
Despite all the advantages service composition brings to software engineers, when performed manually, it is still a very complex, time-consuming and error-prone task. The point is that composition requirements and service specifications usually contain numerous easy-to-miss technical details that have to be properly reflected in the composition. This becomes critical when composition has to be exploited in complex and dynamic application domains, requiring frequent revision of providers (i.e., component services), changes in existing offered functionalities (i.e. component services behavior), and adjustment of business policies and objectives (i.e., composition requirements). This is the case for IoS-based application domains, where the execution environment is so dynamic, that service composition is considered to be a kind of every-minute routine activity.
We can mention at least two important examples of such IoS-based domains. The first one are pervasive systems, which are mobile systems operating in close connection with their context. Once service composition is exploited in this setting, it has to be flexibly and quickly adapted to the rapidly changing environment. For instance, let us imagine there is a car that has to regularly perform some activity implemented through composition of surrounding near-field communication services (e.g., car parking assisted by various parking services). Depending on the current surrounding environment (i.e., on the set of available services and on the context state) the solution composition, though targeting conceptually the same objective, will always be different. If the procedure is repeated frequently at different locations, we have to produce new compositions again and again. Another example are user-centric systems, whose operation evolves around the needs and constraints of a specific user. For instance, it could be a mobile application that allows the user to integrate (compose) multiple mobile services (local phone services, Internet services, near-field communication services, etc..) and execute them consistently. In this case, the choice of services and composition objectives are determined by user's environment and personal preferences/constraints/goals.
It is quite clear that predefined solutions are not going to work in these IoS-based systems. Indeed, each composition heavily depends on the run-time parameters of the execution environment, namely, current execution context, set of available services, concrete user's needs, etc. Since these parameters are not predictable at design time (sometimes we may not even know which services will be available at the time of composition), it is impossible to produce reliable solutions a priori. In order to address this problem we need a dynamic composition framework that would automate the whole service composition life-cycle, from requirements derivation, to composition generation, to deployment and execution [1, 2].
Another important aspect that directly follows from system dynamicity is context-aware composition and execution. Services are often closely connected to the context in which they are executed (e.g., a parking web service execution may depend on the type of a car to be parked, on space availability, weather, etc.). In turn, the context tends to be volatile, i.e. exogenous events may change the context state and thus affect composition execution. In this setting, to be able to produce compositions that are consistent with the surrounding context it is important to have a context-aware service model that reflects contextual characteristics of services. This information has to be taken into account in service composition, thus enabling more robust solutions. It is worth to notice that the problem of context-awareness of service composition has not yet received enough attention from the scientific community and only very few works are currently available on the topic [3–5]. Many existing approaches to service composition suffer from over simplification, both for what concerns the service model (e.g., services are often considered as atomic synchronous operations) and composition requirements (e.g., requirements languages do not reflect real-world composition needs). As a result, these solutions can only be applied to very limited set of composition problems. At the same time, a few approaches demonstrate more maturity in addressing these aspects.
In this article, for the first time, we present a comprehensive framework, and its implementation, for automated service composition that is specifically designed to be used in dynamic execution environments and allows for context-aware service composition and execution.
In very general terms, the idea consists in organizing the composition life cycle in a such a way that most human activities can be accomplished at design time. As a consequence, run-time composition management, from the derivation of composition requirements to the composition synthesis to the deployment of executable processes, is completely automated. Moreover, whenever human involvement is required at run-time (e.g., plugging-in a new service into the system), the change is automatically dealt by the framework, without affecting the system execution. In addition to that, our composition framework features explicit context model that is used to express various contextual characteristics of services. Later, these characteristics can be taken into account in automated reasoning so that context-aware service compositions are produced. The approach exploits AI planning techniques that can deal with realistic service models (asynchronous, stateful and nondeterministic services) and allows for rich control- and data-flow requirements1. This makes it powerful enough to be used in real service-based systems, including those mentioned above. The demonstration is given also by its usage, as a core component, in different previous works to support the incremental refinement and adaptation of context-aware service based systems [6–8].
In the article, as composable components we use process fragments (or simply fragments). Fragments [9] are a way to represent reusable process knowledge in service compositions and encode elementary subprocesses that can be used as constructing blocks for more complex processes. Process fragments are also a very effective mean to model stateful and asynchronous services [10].
The rest of the article is structured as follows. In Section 2, we present the Car Logistics scenario used as a reference throughout the article and explain the challenges it poses to service composition. In Section 3, we present our composition framework, formally defining all the concepts and models used for context-aware dynamic service composition and show how the composition problem is solved through AI planning techniques. The experimental validation of the approach can be found in Section 4 where we have used the implementation of the Car Logistics scenario to demonstrate our approach in action and evaluate its performance and scalability. Finally, we conclude the article with related work survey (Section 5) and conclusions (Section 7).
2 Motivating scenario and research challenges
In this Section we introduce the car logistics scenario that helps understanding the problem we want to solve and the research challenges that it poses.
2.1 Car logistics scenario
The motivating scenario (later referred to as Car Logistics Scenario or CLS) is inspired by the operation of the seaport of Bremerhaven (Bremen, Germany) [
11
]. Every year this port receives around 2 million cars transported by ships in order to further deliver them to retailers. The delivery process for each car (see Fig.
1
) includes a number of steps to be accomplished. Cars arrive by ship and each ship is able to approach and leave a gate interacting with the landing manager, which is in charge of coordinating and controlling the landing procedure for all the ships in the port. Then cars are unloaded and unpacked at one of the terminals. Once a car is unpacked, it has to be moved to one of the storage areas: the chosen area depends on the car type/brand and on the availability of parking spaces; different storage areas have different parking procedures that need to be followed. The car remains at the storage area until it is ordered by a retailer. Once a car stored is ordered, it continues its way towards the delivery. In particular, the car is treated at dedicated treatment areas (e. g., washing, painting, equipment) according to the details of the order and the car brand/model. When a car is ready to be delivered it is moved to the assigned delivery gate, where it is loaded onto a truck and eventually delivered to the retailer. It is important that every step in the chain is customizable according to the car brand, model, retailer requirements, etc. This means different cars may utilize different procedures to accomplish the same task.

These procedures are partially automated and exploit digital services as well as sensors and smart manufacturing equipment [
11
]. We tried to move this scenario a little further to fully capture the opportunities offered by paradigms such as IoS and IoT, yet keeping its current needs, regulations and practices. Our goal was to develop a service-based system that supports the synergistic cooperation of the numerous actors (i. e., cars, ships, trucks, treatment areas, parking facilities, drivers, etc.) allowing them to follow their current procedures and business policies. The CLS scenario presents several example of dinamicity that we list in the following.
Customization. The system should consider the customization of each car procedure. It means that different brands and models of cars in a similar but customizable way according to the specific order and context (e.g., facility in which they are treated).

Openness. The system should be able to easily integrate new actors and services at run-time. This happens, for example, when new car models, having specific requirements and procedures, is handled at the seaport, when a new truck/ship company comes into play, as well as whenever there is a new functionality provided by the sensors and machineries used in the different port facilities.

Flexibility. The system needs to flexibly deal with changes in the procedures and business policies of all the actors such as ships (e.g., changes in approaching procedure), trucks (e.g., changes in delivery procedure), port facilities (e.g., update in a parking service or in a certain procedure supported by a machinery in a treatment facility).

Context-awareness. The system needs to deal with situations where contextual changes invalidate some choices made before. For example, if a car books a space at some storage area and upon arrival realizes that the facility is not available, it needs to rearrange the things so that it can be stored at a different facility.
2.2 Research challenges
In the previous section, we gave an example of a system where dynamic composition techniques are strongly required. As a result, it is hardly affordable to involve human experts to participate in resolving composition problems on-line. This essentially means that all the composition steps, from abstract requirements' specification, to service discovery and composition, to service deployment, must be automated.
This challenge is hardly coped with by the existing composition techniques. In general, every automated composition engine follows the scheme shown in Fig.
2
. As input, it takes specifications of
software components
and
composition requirements
and, as output, it produces an executable process.
The major problem of most existing composition tools is that they assume that the set of services to be composed is always known to the designer at the moment of specifying composition requirements. Consequently, it is assumed that composition requirements may include implementation-specific details of services that they are supposed to be used with. As such, requirements become linked to particular service implementation and cannot further be used with conceptually similar services that are implemented differently (e.g., when we would like to use a new ticket booking service in place of the one for which the requirements were originally created). In dynamic systems this causes an important problem: while the list of available service is dynamic and can only be discovered at run time, the composition requirements are fixed at design time. Consequently, we need to understand how to create a composition architecture that allows design-time requirements to be consistently used with an arbitrary set of services discovered at run time with no human intervention (Challenge 1).
Another problem concerns context-awareness. In several cases, process execution is tightly connected to the context. When numerous services are available, it is critical to select correct services and produce a composition that is valid for the given context model and for the current state of this model (Challenge 2).
Finally, we need to recall that composable components may be quite complex and may feature 1) statefulness (complex protocol), 2) non-determinism and 3) asynchronous communication. As a result, the composition architecture has to rely on a service model that reflects these properties of real services (Challenge 3).
3 Dynamic service composition framework
In this section we present our framework for modeling dynamic context-aware systems such as the CLS scenario described in Section 2.
4 Experiments and results
To demonstrate our approach in action and evaluate its performance and scalability, we have used the implementation presented in Section 3.4 to model and run the Car Logistics scenario introduced in Section 2. In the following sections we present the outcome of the set of experiments done.
4.1 Experimental evaluation
We ran the ASTRO-CAptEvo framework in continuous mode for around an hour and collected information on 1060 compositions performed within this time. The run was performed on a Windows laptop with dual-core 2.8GHz CPU with 8Gb of RAM (we remark, however, that the planner implementation is single-threaded). For each composition, we measured a number of indicators that characterized the complexity of the problem and the timing. Then we tried to organize them into charts to make conclusion about the applicability of the approach.
While conducting the measurements, we took into account the general conclusion about the performance of the planning algorithm given in [18]. In particular the authors stated that "the performance of synthesis appears to degrade sub-exponentially with the size of the components; and in vast majority of cases, it degrades polynomially with the number of components".
However, when working with bigger domains the performance may degrade to exponential. The most reasonable explanation for that is based on the implementation details of the BDD (binary decision diagram) library used: big domains are much more memory demanding and for them the garbage collection and data re-arrangement mechanisms may take considerable time to keep the memory consumption within certain limits.
In the chart in Fig.
16
we show the dependency between the number of fragments passed to the planner and the time it takes to produce a plan (in logarithmic scale). It can be seen that it shows exponential scalability. In general, this result corresponds to that of [
18
]. The performance degradation to exponential even for small numbers of fragments (that was not present in [
18
]) can be explained by the fact that, in addition to fragments, the planning domain in context-aware composition also contains context-related LTSs. As a result, even for small number of fragments, the domain becomes relatively large and results in exponential scalability.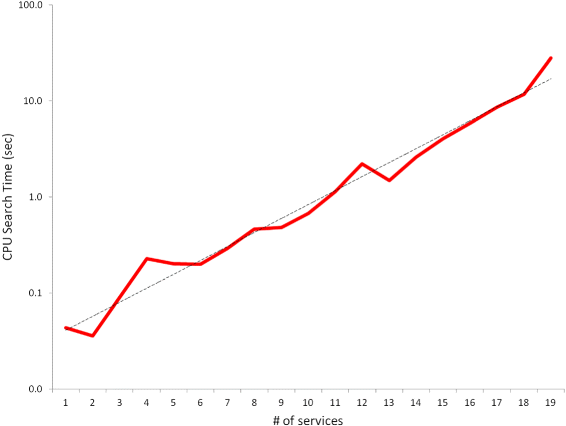 Alternatively, we propose our own indicator of domain complexity that is the total number of transitions in fragments and context properties making up the domain:
$$Complexity = NumContextTrans + NumFragTrans. $$
We find this indicator more precise compared to the number of fragments. It also allows us to see a more fine-grained distribution of all composition problems with respect to complexity. The performance scalability with respect to composition complexity is represented by the chart in Fig.
17
. It can be observed that it generally corresponds to the chart in Fig.
16
and features exponential growth. However, it makes sense to consider this chart along with the complexity distribution of all composition problems analyzed in Fig.
17
. It can be observed that most composition cases reside in the region with low or moderate complexity, while the cases with high complexity are quite few. We remark that such distribution also affects the precision of the scalability chart in the region of high complexity (less experiments are carried out there).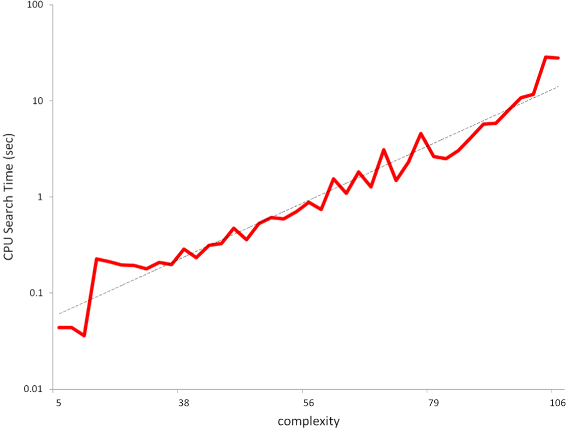 Consequently, from the charts in Fig.
17
we can derive the following table showing the percentage of composition cases that are resolved in no more than
n
seconds:
| n, sec | compositions resolved within n sec, % |
| --- | --- |
| 0.1 | 19.07 |
| 1 | 91.12 |
| 3 | 96.51 |
| 10 | 99.62 |
| 30 | 100.00 |
From the table it can be observed that the vast majority of adaptation-related compositions actually take less than 10 seconds. This is the first evidence of practical applicability of our composition technique: although the performance of context-aware composition degrades exponentially with growing complexity of a composition problem, it is still enough to be used for the actual problem of process adaptation. This becomes especially true when we notice that in many application domain there are no severe restrictions on the performance of composition related tasks. For example, in the CLS scenario, the typical life cycle of a car may have duration up to several weeks and usually it is affordable for a user-centric system to take up to half a minute to produce a solution.
The last important observation is that for each particular composition problem we build a planning domain that includes only the information that is relevant for this problem, namely: 1) the subset of context properties that are relevant for entities under consideration, which is normally a small portion of the overall context of the scenario and 2) the subset of all fragments that may be useful within the current composition problem, which is, again, only a small portion of all fragments currently available in the system. The idea of fragments and context pre-selection is quite natural: if the system resolves a problem for a particular car it needs only the part of context that are relevant for this car (and not for dozens of other cars and ships in the system), and fragments that are relevant for car only (e.g., it does not make sense to consider a fragment for ship landing). We expect this pre-selection to allow us to preserve the same average size of the planning problem even for much larger (with respect to the number of entities) domains. Indeed, if within the scenario we operate thousands of cars instead of dozens, the complexity of an average composition problem for a particular car would not grow and remain the same: the proper selection will always come up with more or less the same amount of relevant fragments and context. The increase in the amount of cars in the harbour does not functionally affect the way a car procedure should be planned and executed. As such, we expect our approach to be easily scalable in this regard.
5 Related work
In last years, different approaches have been proposed for the modeling of services in a suitable way for making efficient dynamic service composition. From the scenario and the challenges discussed in this paper, a specific need has emerged: being able to define services in such a way that they can dynamically be specialized to the context, when this is discovered or when it changes. Where the context is characterized by the state of the execution environment and by the available services at a specific time and location.
An approach targeting this problem is presented by Hull et al. [22] in their work about Business Artifacts. It consists in the definition of a formal/theoretical framework for defining conceptual entities, the artifacts, related to the execution of services whose operations influence the entities evolution, as they move through the business's operations. However, this approach mostly focuses on service modeling aspects and does not deal with dynamic service composition. Yu et al. propose MoDAR [23], an approach on how to design dynamically adaptive service-based systems. Essentially they propose a method to simplify business processes by using rules to abstract their complex structure and to capture their variable behavior. However, in dynamic context, revising rules to manage frequent and unpredictable changes might turn out to be very expensive and complex. In [24], the authors tackle the problem of unpredictable execution of service-based applications. In particular, they focused on how to evolve a running service composition and propose a way for modeling artifacts corresponding to composite services that can change at runtime. However, software engineer intervention is needed to manipulate the runtime model of services. Moreover, the adaptation and application logics are mixed making the model not very flexible. In [25] the authors present DAMASCo, a framework managing the discovery, composition, adaptation and monitoring of services in a context-aware fashion by taking into account semantic information rather than only the syntactic one. Since they address the problem of making the reuse of software entities more agile and easy to model, they focus especially on the adaptation of pre-existing software entities that are used during the developing of service-based applications. Also the approach presented in [26] focuses on the need of explicitly manage the context in the composition of web services, to address the problem of semantic heterogeneities between services. The authors present a context-based mediation approach that allows services both to share a common meaning of exchanged data and to automatically resolve conflicts related to the semantic of the data, by using context-based annotations which offer an optimized handling of the data flow. It would be interesting to use the approaches [25, 26] in the management of the composition of fragments coming from the different entities and the definition of the data flow between them. In [27] the concepts of goals and plans are introduced in the business processes modeling with the purpose of extending the standard BPMN to make the BPM more flexible and responsive to change. However, even if plans are selected and executed at runtime, they are defined at design time together with the relations with the goals they can satisfy. Göser et al. [28] is a framework for, among other things, the management of the integration of services in the business processes implementation's process to speed the implementation and deployment phases. Services' integration is realized in a plug-and-play manner in which activities are selected from a repository and then dropped into a process. However, as regards the runtime adaptation of processes, in this approach only ad-hoc modifications are managed.
Hermosillo et al. [29] is a framework that combines complex event processing and dynamic business process adaptation, which allows to respond to the needs of the rapidity changing environment, and its adaptation language called SBPL, and extension to BPEL which adds flexibility to business processes. As in the previous framework, only ad-hoc adaptation processes are defined ad design-time together with the definition of specific adaptation points for the business process and the events that will trigger that adaptation.
In the context of Future Internet [30], some frameworks have been proposed to deploy and execute adaptable, QoS-aware service compositions. In [31], authors present an engine for the execution of service compositions based on a unified model. The unified model allows to execute service compositions that are specified by use of different languages with different underlying modeling paradigms, e.g. imperative and declarative service compositions by the same engine. Furthermore, the unified model and the presented engine enables the unification of the execution of service orchestrations and the enactment of service choreographies. CHOReOS project [32] proposes a dynamic development process, and associated methods, tools and middleware, to sustain the composition of services in the Future Internet. It proposes a synthesis approach able to automatically generate, out of a BPMN2 choreography specification, the needed adaptation and coordination logic, and distribute it between the participants so to enforce the choreography. Finally, in [16], authors propose service composition repair as an alternative solution that goes beyond the limits of service replacement while avoiding recomposition.
6 Discussion
We conclude this section with a discussion (summarized in Table
1
) in which we try to point out the advantages of the proposed approach respect to related works. As regards to the standard approaches of service composition, such as those of orchestration and choreography, they have have some crucial limitations. A major problem of these approaches is that most of them are based on the assumption that during the specification of composition requirements, the application designer knows the services to be composed. Besides, some of them, such as [
14
,
33
], remain focused on the syntax level without considering the semantic aspects of composition, which are, instead, necessary in context-based applications. Other approaches like [
31
,
34
–
38
], have introduced the management of semantic knowledge in their models to drive the services' composition and interoperation but, despite this, they do not allow processes to be specialized at runtime, through dynamic service composition. Cubo and Pimentel [
25
], Mrissa et al. [
26
], Greenwood [
27
] allow for very efficient management of service compositions at runtime, while [
16
,
32
] supports composition evolution through adaptation to possible changes in the discovered services. The adaptation strategies applied in these approaches in some cases are defined at design-time or are strongly related to a prescribed coordination model (i.e., BPMN2 model in [
32
] does not open to runtime and context-aware refinements).
Table 1
Service composition approaches comparison
| Approaches | Customization and context-awareness | Openness | Flexibility |
| --- | --- | --- | --- |
| Our approach | Runtime service composition in a dynamic context | Transparent handling of new services available at runtime | Structural changes in services functionalities and services unavailability |
| | Context-aware selection of services using semantic information, or context events to identify adaptation situations | Not addressed | Adaptation plans defined atdesign-time together with the relations with the goals they can satisfy or predefined adaptation points. |
| | Not addressed | Syntax level service selection and composition at design-time | Not addressed |
| | Semantic Knowledge to drive the service composition | Design-time services selection, binding and composition | Service Choreography evolution through adaptation to possible changes in the discovered services |
The approach proposed in this paper, instead, offers a lightweight-model, with respect to the existing languages for service composition. It is more flexible and able to define both orchestrations and choreographies thanks to its dynamic collaboration among entities. Moreover, the model explicitly handles the context by managing the dynamicity of services, which can enter or leave the system in any moment, with a flexible connection strategy between entities that exploit the publish-subscribe paradigm. Unlike specifications of traditional systems, where the behaviors are static descriptions of the expected run-time operation, our approach allows the application to define dynamic behaviors. This is realized thanks to the usage of abstract activities representing opening points in the definition of processes, which allow services being refined when the context is known or discovered. The bottom-up approach for the activities' refinement allows fragments, once they are selected for the composition, to climb the entities's relations to be embedded in the running process. Besides, the composition is defined at runtime, so that exactly the currently available services are considered for the composition. This feature, on the one hand enables a smooth exploitation of proximity services, and on the other hand makes the impact of run-time changes to services (modification of behavior, entrance or exit of services from the system) transparent to the system execution.
7 Conclusion
In this article, we presented a service composition framework that overcomes many limitations of the existing approaches. Our approach uses an AI planning algorithm as a reasoning mechanism, and can be used to solve composition problems of real-world complexity in dynamic and pervasive setting like Logistics [8] or Smart Urban Mobility [7] domains.
The proposed framework uses an innovative service model in which services are considered to be stateful, non deterministic and asynchronous. The composition requirements model is based on the idea of abstracting composition requirements from implementation details of services. This allows for deep automation of the composition process. Even though in the article we only consider reachability goals as control-flow requirements, we emphasize that our approach can be easily adapted to use any advanced control-flow language used in planning (e.g., [39]). We also remark that our approach is compatible with data-flow requirements technique introduced in [40]. All this makes the new composition engine applicable to a wide range of real service composition problems.
Thanks to the abstraction of composition requirements from implementation of components we organized the composition life-cycle in such a way that almost all the human time-demanding operations can be accomplished at design time so that the composition run-time is fully automated. Moreover, the availability of a tool with such essential property brings new possibilities to composition dependent systems.
We generally consider two main future steps in the development of the ideas presented. One of them naturally consists in adopting the advanced compatible techniques for specifying complex control- and data-flow requirements. Another one concerns conducting experiments on using our approach in user-centric systems.
8 Endnotes
1 In this article, we focus only on control-flow aspect of composition. Data-flow aspect can be handled using the technique presented in [40], which is compatible with the formal framework introduced.
2 Although the proposed approach works with processes modeled using APFL, it can be also used extending other process-based languages like BPMN [41] or CMMN [42].
3 We remark that in order to avoid state explosion and to keep a planning problem tractable, it is strictly required that the number of states of each context property is finite and reasonably small. One technique for dealing with context properties with large or infinite number of states in planning can be found in [43].
4 In this article, as context formulas we use reachability goals over context states (i. e., a goal consists in achieving certain context states, known as goal states). At the same time, we emphasize that used AI planning techniques support for more sophisticated constructs including procedural goals, reactive goals and goals with preferences (more details can be found in [39]).
5 In our approach, the need to annotate newly created fragments to integrate them into the running system is the only human-dependent task that needs to be accomplished at run time. We do not see it as a significant limitation since 1) the annotation of new fragments is normally far less urgent task than resolving an ongoing failure and can hardly interrupt the normal operation of the system, and 2) the annotation effort can be distributed among multiple partners (each provider annotates its fragments).
Abbreviations
APFL:

Adaptable pervasive flows language (Section 4.1)
BDD:

Binary decision diagram (Section 5.2)
CLS:

Car logistics scenario (Section 3.1)
IoS:

Internet of services (Abstract)
LTS:

Labelled transition system (Section 3.1)
Declarations
Availability of data and materials
The implementation of the ASTRO-CAptEvo framework is available at http://das.fbk.eu/astro-captevo together with a video showing its live demonstration.
Authors' contributions
All authors are equal contributors. All authors read and approved the final manuscript.
Authors' information
Dr. Antonio Bucchiarone (PhD) is a senior researcher in the FBK-DAS research unit of FBK. He received his PhD in Computer Science and Engineering, from IMT of Lucca (Italy) in July 2008. His main research interests are: self-adaptive (collective) systems, applied formal methods, run-time service composition and adaptation, specification and verification of component-based systems, dynamic software architectures. He has been actively involved in various research projects in the context of self-adaptive systems.
Dr. Annapaola Marconi (PhD) is a senior researcher at FBK, where she directs the FBK-DAS research unit. She received her PhD in Computer Science in 2008, from the ICT International Doctoral School of the University of Trento. Her research interests include distributed systems, collective adaptive systems, and automated composition of service-based applications. She has been actively involved in various local and European research projects in the area of Smart Mobility.
Dr. Marco Pistore (PhD), is currently head of the FBK-SC unit. He received a PhD in Computer Science from the University of Pisa (Italy) in 1998. He has an h-index of 46 and more than 200 publications in international journals, conferences, and symposia. He has 12 years of experience in the management of research teams and projects: he has been responsible of research groups and project teams (up to more than 30 persons); he has been scientific coordinator and partner coordinator of regional, national and EU research and innovation projects; he has been responsible of technology transfer projects with National and International companies.
Dr. Heorhi Raik (PhD), is a junior researcher at FBK. He received his PhD in Computer Science in 2012, from the ICT International Doctoral School of the University of Trento, with a thesis titled: "Service Composition in Dynamic Environments: From Theory to Practice". His research interests include service composition, dynamic process adaptation, user-centric services, AI planning, collective adaptive systems.
Competing interests
The authors declare that they have no competing interests.
Publisher's Note
Springer Nature remains neutral with regard to jurisdictional claims in published maps and institutional affiliations.
Open Access This article is distributed under the terms of the Creative Commons Attribution 4.0 International License(http://creativecommons.org/licenses/by/4.0/), which permits unrestricted use, distribution, and reproduction in any medium, provided you give appropriate credit to the original author(s) and the source, provide a link to the Creative Commons license, and indicate if changes were made.
Authors' Affiliations
(1)
Fondazione Bruno Kessler, Trento, Italy